Info
Be Reasonable – Demand Genuis
Flowers In The Dustbin is a multi media collective: record label, publisher, event instigator. To date we have released 18 singles, eps, albums, books & films. 2012 sees releases from Kick To Kill, Mummy Short Arms, The Deadline Shakes, Rennes Les Bains Clan plus more to be confirmed.
Our releases have received airplay on Radio 1, 6 Music, Radio 2, NME Radio, Clyde, West FM, XFM, Leith FM and many more around the globe.
Press has included The Sun, Sunday Mail, Daily Record, Evening Times, Artrocker, The List, The Skinny, The Herald.
Online coverage includes Louder Than War, Sound Of Confusion, Loud Horizon, Rave Child plus many more.
We fund the label with live events in Glasgow. All cash from our events is used to fund releases. We despise promoters. FLOWERS IS NOT, AND NEVER WILL BE, A PROMOTER. Current live events are:
› SEDITIONARIES – first Saturday every month @ the 13th Note
Plus sporadic live events across Glasgow in venues including Stereo, Captains Rest, The Admiral, NicenSleazy and Pivo Pivo.
These are advertised on this very website, Facebook, and the walls of Glasgow.
Commandments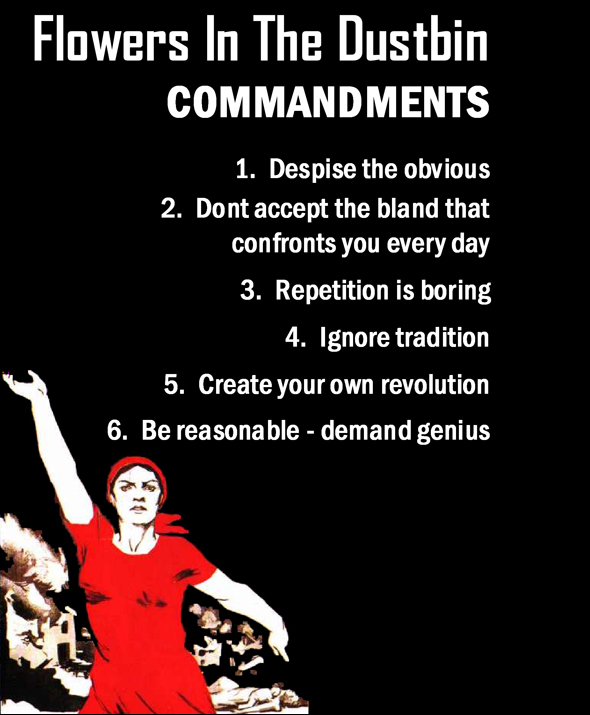 Collaborators…
Instigator:
Stephen McKee
Karma Consultant / Operations:
Audrey McKee
Professor:
Harris Hill
Zen:
Dave Cook
The Matrix:
Cameron Findlay
Activists…
Film:
iseevideo
Photographs:
Kate Sam Photography
Photographs:
Charlie Tracey
Image Artist / Cover Star – Razorchild:
Kaleidoscope Eyes – Entheogen cover
Kaleidoscope Eyes – Band Photos
Kizzy Star – Out Of Control cover
Kizzy Star – Band Photos
Kick To Kill – Cut Me cover star
Image Artist – Martin McLeod:
The Deadline Shakes – Don't You Be Too Cool
The Deadline Shakes – Sweeten The Deal
Image Artist – John Spiers:
Kick To Kill – Live Photos
Image Artist – Monkeytwizzle:
The stunning image featured on Kick To Kill's single 'Cut Me' is by Billy from Monkeytwizzle photography. Our vocabulary can't really do his art justice, but suffice to say the man is deeply talented. Like the best bits from a David Lynch movie.
The Fixer – Daz (a.k.a The Voice):
The Bank Job
Radio adverts
Fixing
Communication / Doors of Perception
Johnny