Release > Stephen McKee > 48 Thrills – Novel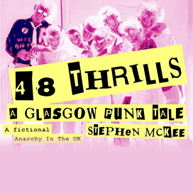 Flowers 2 – Released: 2nd March – 2009
267 page paperback novel
Buy From:


Kindle Edition:


The story behind '48 Thrills'
48 THRILLS tells the story of 4 teenage punks – the first punks in Glasgow. It's about the music, the fashion, the girls, the fights. 4 desperadoes making a potentially fatal fashion statement in a city which had still to gain its trendy tag.
Parents, family, friends, acquaintances and complete strangers have got it in for them. Meanwhile the boys discover love, or lust at least.
The book is crammed with legendary Glasgow and Paisley gigs: The Rezillos at Shuffles, The Adverts at the Silver Threads (Paisley), Clash, Stranglers, Siouxsie and The Banshees, and The Damned at the Apollo, The Buzzcocks, Jam, 999 and more. Glasgow readers of a certain age will also recall locations featured throughout the novel including Satellite City, Chivagos, the Bath Hotel, Vintners, Shuffles, Listen Records, Bruce's Record shop. And Dino's café!
It's about the thrill of hearing New Rose by The Damned and early releases by the Pistols, Clash, Banshees etc.
If you were around during punk, you'll remember punks appearing like aliens in city, town and village streets across the UK. The world was changing. Wasn't it?
A fictional Anarchy In The UK. Never Mind The Bollocks, Here's 48 THRILLS!.
The Scenario
Teenage punk kid Jamie is travelling to see the legendary Sex Pistols reform for a one off gig, 'Pistols At The Palace'. On the way he meets 4 original punks in Glasgow Airport. Two generations collide. 'The Originals' tell their punk stories, from it's origins in 1976, to it's messy conclusion.
Three decades on. Who's still punk?
Press
"McKee's book is an insight into one of the most exciting and radical cultural movements of the last century."
Scots Whay Hae!
"a white knuckle, snakebite-fuelled ride through the mean streets of 70′s Glasgow. Definitely recommended."
Vive Le Rock
Featured Media
Back in 2012 Stephen was part of a discussion panel at the Harry Papadopoulos photography exhibition at Street Level in Glasgow. You can see a film of the event here. Fast forward to 1.11 for a reading from 48 THRILLS!