News
Archive for March, 2016
ANDREW R. BURNS & THE TROPICANAS – DELAYDEEZ
> Posted: Saturday, March 26th, 2016 by Stephen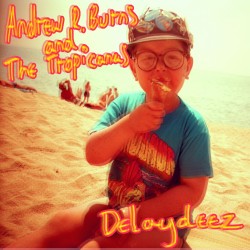 The second ep from ANDREW R. BURNS & THE TROPICANAS is out now (released 18th Oct 2015). The band have been attracting an impressive range of admirers including Tom Ravenscroft (BBC Radio 6 Music), Roddy Hart (BBC Radio Scotland), British Council show The Selector, the Daily Record and Song By Toad.
Available now from our bandcamp store..
https://flowersinthedustbin.bandcamp.com/album/andrew-r-burns-the-tropicanas-delaydeez
You can also find it from all the usual outlets. The band describe their music as "tropical dreamslop… lazy unpolished, reverb laden tunes." Sound of Confusion called it "warped, twilight world gems".
Newer Entries »