Release > For Abel > Yorkshire – Single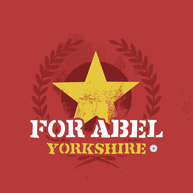 Flowers 14 – Released: 5th Nov- 2011
1. Yorkshire
2. On TV
Buy Digital Download:
Buy Replica Vinyl CD:

The story behind 'Yorkshire'
For Abel's debut album has already gained deserved rave reviews, with Loud Horizon / Artrocker scribe Colin Jackson writing "if they do not make the breakthrough to general acceptance this year I'm gonna have to chuck this reviewing lark! 10/10". The track Yorkshire is released on 5th Nov 2011 as a single. Like the song says, Britain in 2011 looks "like a scene from '89". Unemployment figures have hit their highest since 1989. On Nov 5th we are not suggesting anyone blows up the Houses of Parliament, but we are suggesting that it's time to start expressing no confidence in a Tory government. They are the enemies of the poor. We need to replace this government with one which believes in the equality of human beings.
For Abel (formerly known as Nacional) have played Glastonbury, Rockness, SxSW Texas, GoNorth, In The City Manchester and 3 successful U.K tours with Select Booking Agency. They previously released 2 singles on Art Goes Pop. Radio play has included Radio 1, 6 Music, NME and XFM with Steve Lamacq, Vic Galloway, Huw Stephens, Colin Murray, Tom Robinson, Jim Gellatly and Ally McCrae lending support. Press has included Artrocker, The Skinny and Rolling Stone. Sky Sports selected 'On TV', track 2 from the single, to soundtrack adverts for live football.
Highlights
Coming soon…
Featured Audio
Press
"If John Peel were still alive he'd never let this lot out of his studio."
Sunday Herald
"I hear Morrissey. I hear Joy Division and New Order. I hear The Wedding Present."
10/10 Loud Horizon
"Packs a lot of excellence into its tightly-played package"
The Skinny
"Give it time and people will revere them."
NME Radio