Release > Kick To Kill > Quit Tomorrow – Single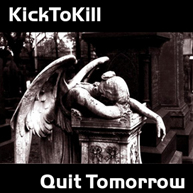 Flowers 1 – Released: May- 2007
1. Quit Tomorrow
2. Acid Rain
3. Senses Stripped
Buy From:
Our store here.




The story behind 'Quit Tomorrow'
We were incredibly idealistic when this was released. These paragraphs from an early press release coveys that unbridled enthusiasm. We used to put quotes like this on posters. We didn't care what anyone thought. We still don't.
"Every 10 years a band comes along that blows you away. Changes your listening habits. Changes your life. In 1984 it was THE JESUS AND MARY CHAIN. The first band that meant something, that were different, since the Pistols. A teenage epiphany.
Fast forward 22 years. A new band, more reclusive than the LA's. (Or even the Reid brothers legendary 5 years in their bedroom before the first single.) One stunning track on their site, an early version of 'QUIT TOMORROW', like the Stone Roses 'I Wanna Be Adored' if it ever lived up to the expectation of what you imagined the Roses could have been. You're thinking, maybe it's a fluke. An obscure cover version. AND THEN FLOWERS IN THE DUSTBIN HEARD 'SENSES STRIPPED'. That teenage epiphany all over again. Sheer maverick genius."
Highlights
Coming soon…
Featured Video
Coming soon…
Press
"The single best song I've heard from a Scottish group in a very long time… With strong hints towards Bauhaus, Killing Joke, Jesus and Mary Chain, Kick to Kill almost sound like a Scottish version of 'I Love You But I've Chosen Darkness'… The band encapsulates the best elements of gothic, drone and alternative rock."
Heaven Or Las Vegas
"A band that lives up to it's hype. Really quite phenomenal!"
Jim Gellatly, XFM