Release > The Ex Men > Famous – Single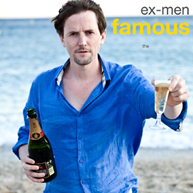 Flowers 8 – Released: 16th November – 2010
1. Famous (Single)
2. Famous (Rich Bums Mix)
3. Famous (Lol Album Remix)
4. Famous (Lounge Version)
Buy Digital Download:
Buy CD:

Also available from numerous download stores, or you could buy a physical copy in our favourite RECORD SHOP – Love Music (Glasgow)
The story behind 'Famous'
Tristan Abgrall walks in on Jack playing around with the sardonic 'Famous' vocal one day in a Paris studio. He immediately comes up with a riff for it.
Sometime later Jack forms The Ex-men with Matt Green.
Matt rearranges 'Famous', which appears on the self-released Ex-men debut, A life of love. On hearing the album Flowers founder Stephen McKee is determined that 'Famous' will be the first Ex-men release on Flowers.
Flowers producer Albert K (Nevada Base) creates a new version ('single') featuring a backing vocal from Karine Betou and Albert K's searing analogue synth.
The Famous ep also contains new versions from Paris-based producers Julien Majorel ('Lounge' mix) and Adam Zanders ('Rich bums' mix), as well as the original LoL album version.
Criminally ignored by radio, possibly due to repeated swearing, drug & sexual references, or because the radio plugger we hired was utterly useless.
Highlights
Coming soon…
Featured Music
Featured Media
Press
"Enough to make you wonder if this is some sort of secretive Jarvis Cocker project… imagine Daft Punk remixed by The Fuck Buttons."
Noise Noise Noise
"Having listened to around ten seconds of 'Famous' I already want to push my keyboard off the desk, and jump up and dance! Jam packed with energy, funky electro and the urge to join in – 'Famous' is a very, very interesting album. A mix of Klaxons, Pet Shop Boys, Sexy Sushi and a splash of Hadouken and you have something so cool, even a penguin would say 'F**k its cold in here!' "
New-Reviews.co.uk
"The single mix is a pounding slice of electro pop… Now Master Sims has discovered a very rude word to describe women and the rebel that he is, is very keen to share his newly found word with us. It's a bit juvenile really."
Music-News.com