Release > Kick To Kill > Cut Me – Single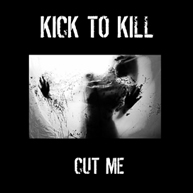 Flowers 7 – Released: 2nd November – 2009
1. Cut Me (Single)
Buy From:
Also available from numerous download stores. Cut Me will also appear on the forthcoming debut album from Kick To Kill.
Story behind 'Cut Me'
The band's debut single ('Quit Tomorrow') was hailed in 2007 as "the single best song I've heard from a Scottish group in a very long time" (Heaven Or Las Vegas) while Jim Gellatly described Kick To Kill as "a band that lives up to it's hype… Really phenomenal" on his XFM show.
The band's original line up disintegrated within days of the single release, leaving the essential core of Dave Cook, Harris Hill and Lewis Macaulay. The past 2 years have been colourful to say the least. The whistlestop history tour goes like this. In 2007 the band, along with Flowers In The Dustbin, created the seminal Glasgow live event The Darkwave Opera. The event has played to packed audiences in venues including Barfly, The 13th Note, The Captain's Rest and The Beat Club. Legendary support slots have included sold out nights with The Fall, John Cooper Clarke and A Place To Bury Strangers. The band were also selected by The Damned to play on their Twisted Cabaret tour. Fast forward to now and Kick To Kill are back with a new fourth member, Ewen Shearer, and the purest, aggressive, nihilistic rock'n'roll you're likely to hear this side of Funhouse era Stooges.
For the past 2 years the band have worked on a set of dark tinged rock'n'roll. As the band worked on final mixes of the tracks, including Cut Me, frontman Dave Cook was attacked in Glasgow city centre by a gang of low lifes. He was stabbed twice in the head and twice in the chest. Millimetres from death, with one of the blades almost puncturing his lung, Mr Cook was taken to hospital. After being revived and stitched up the patient discharged himself the following morning with the immortal words, "It doesn't hurt."
This band is indestructible. Listen. Believe.
The first track to emerge from the dark is Cut Me which will be available Monday 2nd November as a download from itunes and all major download stores. Cut Me was engineered and mixed by Dave and Iain Cook (Aerogramme, Twilight Sad).
Highlights
Coming soon…
Featured Media
Press
"Dave Cook gives a performance so convincing you almost can picture the blood flowing out of his veins as the guitars fuzz, the drums bang and the rock gets harder. Amidst their dirty sound it has deceptively smooth production to it all, a pulsing beat and probable guitars smashing against any near bye walls. Like you're in a club with The Stooges in their heyday. 8/10"
Shout 4 Music
"Pumps you up and makes you say "Fuck yea, let's do this. 8/10"
thefourohfive.com
"You can't help but get excited about these guys. You are going to like this band, but you probably won't be able to put your finger on why."
EGL Magazine
"An absolute gem."
Flotation suite
"A rather instant 80s alternative sounding single from Scottish Kick To Kill, it feels like a forgotten cut from The Lost Boys soundtrack. Part angry guitar, bobbing bass-line and sci-fi synths, over which lead singer Dave Cook channels the likes of Ian Curtis and Jaz Coleman. With a simple structure and repetitive lyrics it's a deceptively smart single, like many 80s post-punk songs it lacks much depth and revels in it, but being a appealing, opaque and simplistic. After their original line-up fell apart, they've pulled themselves back together, acquired a new member, supported the likes of The Fall and The Damned and Cook even survived a near-fatal stabbing. I wouldn't be surprised if they quickly gathered a dedicated following based on the strength of this track alone."
God Is In The TV
"Cut Me" has had me dancing around the office like crazy. I'm really digging this new single by Kick to Kill. Clean, edgy and great to dance to… there's a genuine rock feeling to this, substance over calculated hooks. I took a look at these boys on their MySpace page and I'm actually pretty impressed by their lack of gimmick. These guys don't look like they're obsessing over their eyeliner and designer shoes and I love that. This is just delicious, down to the soul, move your feet rock and that's something that' a lot harder to achieve than these guys make it seem. I can't wait to hear more from Kick to Kill… A tougher sounding Bloc Party. I'm salivating at the thought of getting a hold of their album as soon as I can." Domestic Gothess
"I can hear a lot of references to New Wave bands from the late 70's here – Echo & The Bunnymen, U2 (Boy-era), Killing Joke and The Sound. You, being young sprightly things, will hear a spot of Interpol and White Lies. For that those reasons I am keen to hear more…Promising."
All Gigs
"A distinctive eighties vibe… It is clear that they were influenced by many of the distinctive gothic rock acts that came around during this period… Dark yet danceable riffs… The group's vocalist David Cook almost reminds me of Ian Curtis. Some great hooks and has the same sense of dark grooves that many of the eighties post punk/gothic rock bands had. If they can continue to write these types of tracks they could become a major name. It is sure to get listeners talking." Cosmos Gaming
"For those of us who can dance, Kick To Kill will have you putting on your dancing shoes before the first chorus of 'Cut Me' has kicked in… Their latest single is as accessible as the next infectious dance floor hit… has the ability to get mosh pits and dance floors jumping."
Scotcampus
Interviews