Release > Mummy Short Arms > Cigarette Smuggli…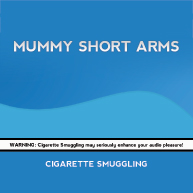 Flowers 11 – Released: 30th May – 2011
1. Cigarette Smuggling
2. Searching For A Body
Buy Digital Download:
Buy Replica Vinyl CD:

The story behind 'Cigarette Smuggling'
Mummy Short Arms release their debut single, 'Cigarette Smuggling', on 30th May. The single will be available on limited edition vinyl replica cd and download.
Highlights
Coming soon…
Featured Media
Coming soon…
Press
"The medium of written word is probably not the best means by which to try and do justice to this rather magical debut single. It conjures images of the wonderful Captain Beefheart doing his best Tom Waits impression to a Bob Dylan song in a dank and smoke-filled basement bar. Genius! 10/10"
Loud Horizon
"Somewhere in the swamp of mediocrity that is Glasgow, there grows a flower. A flower that smells of such sweet madness that its scent can drive a sane man over the edge into the garden of excessive aural pleasure. Today's flower goes by the name of Mummy Short Arms.
Random snippets of conversation decorate the melody – a melody that is so cleverly conventional that it seems quite at odds with what comes with it – as words born of drink and drug fuelled rants spin out of control and ricochet against the boundaries of common sense. It's Captain Beefheart out drinking Deacon Blue before shooting some smack and pressing the record button. It's right down the middle of the road and way out there simultaneously.
Imagination, it would seem, is back in fashion."
Bluesbunny
"Mummy Short Arms are just waiting for some record company guy with taste (I'm assured some do exist) to take a chance on what could be a great band."
Burning World blog
"the most unique musical voice that's been witnessed in a long, long time."
Dead Earnest
"pure alternative perfection"
Can You Hear This
Interview