Release > Kick To Kill > Black Kisses – Single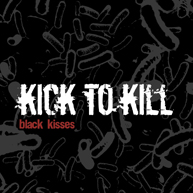 Flowers 13 – Released: 21st Nov – 2011
1. Black Kisses
2. Mushroom Cloud
Buy Digital Download:
Buy CD:

The story behind 'Black Kisses'
Following a glorious, youthful debut single which was described by future Scotcampus editor Hammond as "the single best song I've heard from a Scottish group in a very long time" (Heaven or Las Vegas) the original lineup promptly disintegrated. A single in 2009, 'Cut Me', became tinged with blood soaked irony when chief songwriter and front man Dave Cook survived a near fatal stabbing in Glasgow shortly before the release. One of the reviews at the time described the band as "Like you're in a club with The Stooges in their heyday" (Shout 4 Music). Support slots have included The Fall, A Place To Bury Strangers, The Damned and John Cooper Clarke. With a debut album in the can, Black Kisses sees Kick To Kill finally ready to emerge from the darkness. The single is out 21st Nov on limited edition vinyl replica cd and download.
Highlights
Coming soon…
Featured Audio
Press
"The single best song I've heard from a Scottish group in a very long time… With strong hints towards Bauhaus, Killing Joke, Jesus and Mary Chain, Kick to Kill almost sound like a Scottish version of 'I Love You But I've Chosen Darkness'… The band encapsulates the best elements of gothic, drone and alternative rock."
Heaven Or Las Vegas
"A band that lives up to it's hype. Really quite phenomenal!"
Jim Gellatly, XFM