Artists > The Deadline Shakes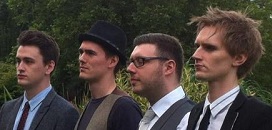 Bio
Over the last couple of years The Deadline Shakes have picked up a wide range of support. Radio play from Vic Galloway, Steve Lamacq, Tom Robinson, Jim Gellatly (XFM Breakout track), Roddy Hart and loads of stations across the globe. Press and online including Artrocker, The List, Scottish Sun, Daily Record, Louder Than War, God is in the TV. They have played some great Scottish festivals like Go North, Wickerman and Kelburn Garden Party. They soundtracked several People Make Glasgow tv adverts and played a live BBC Introducing session with Vic Galloway which you can watch here:
http://www.bbc.co.uk/blogs/introducing/posts/In-session-for-BBC-Radio-Scotland-The-Deadline-Shakes
We released their debut single 'Sweeten the Deal' in 2012 and 3 years later we released the band's debut album which went straight onto the BBC Radio Scotland playlist as well as picking up great support including Tom Robinson (BBC 6 Music), Vic Galloway (BBC Radio Scotland), Jim Gellatly & Charlie Ashcroft (Amazing Radio), BBC Radio nan Gaidheal's 'Rapal' album of the week plus a growing list of shows.
Releases
Zealots (ALBUM)
Frozen Out / Sweeten The Deal (double A-single)
Phonecalls in the Bath (single)
Slipping from your Heart (single)
Bright Spot in a Bad Year (single)
Don't you be too Cool (free single)
Boy (single)
Sweeten The Deal (single) – Out 5th November
The Deadline Shakes are:
Greg Dingwall – lead vocals / guitars/ keys / 5-string banjo / brass
Iain McKinstry – guitars / vocals
Martin McLeod – bass / ukulele
Thomas Booth – drums / percussion
Michael Muir – violin, tenor banjo
Kiera Pollock – guitars, vocals
Sam Clark – keys
Featured Audio
Featured Video
Press
"I'd described them before as having the lush harmonies of Crosby, Stills, Nash & Young and the angular guitar lines of The Strokes, but there is so much more than that." Vic Galloway, BBC Introducing blog
"the sheer joy of the melodies is the key here – you simply can't resist them… Zealots is basically one of the best albums you'll hear this year." XS Noise
"The Deadline Shakes have provided something simply amazing with Zealots, with it being one of those awfully rare compilations where each and every single one of the robust tracks is bursting with creativity … this band have proved themselves to be a force to be reckoned with." Local Music Scene
"This is brimming with more ideas than most bands will produce in a lifetime…'Zealots' should be heralded as a classic debut album, and that's not an exaggeration… these thirteen songs have given us every right to consider The Deadline Shakes one of the best new bands in the country." The Sound of Confusion
"Really good, a winsome, mandolin-led blast of power-country of the sort Kassidy wish they were making." The List
"Acutely infectious and adorably addictive… a quick A to Z drive by of all your guilty pleasures shoehorned into a sub four minute pop opera sweetie." God is in the TV
"This is excellent power-pop. They're doing fellow Scots, like Teenage Fanclub, proud." Obscure Sound
"Three and a bit minutes of perfect, chiming euphony." Louder Than War
"If the thought of going into work this morning is getting you down, then look no further … its happy go lucky charm is assured to put a smile on your face." The Blue Walrus
"You can hear elements of country, psychedelia, rock, indiepop, sun-kissed beauty and Spectorish grandeur, all jostling for space and each finding their place as though it were second nature… a totally timeless song that will be loved… it's something of a challenge to listen to without breaking out into a big smile." Sound of Confusion
"Sweeten the Deal successfully nods to 60′s era psych and folk equally. Appearing to channel the likes of both Pretty Things and Big Star whenever they please, the recently unveiled outfit could be yet another internationally acknowledged power pop outfit from Scotland." The Orange Press
"excellent Glasgow indie pop." When You Motor Away
"a delicious slice of indie folk-pop" Given and Taken in Ink
"Great melodies & harmonies, jangly banjo lines, and a sweet little guitar solo to boot!" Newdust
"here's one we recommend; one that you can impress your pals with; one to which you can always smile smugly in six months time when the music press finally catch on." Loud Horizon
"There's plenty of bands that mix indie and folk, but there's something refreshing about the approach of Glasgow's The Deadline Shakes to the way they do it. They sound nothing like M*mf*rd *nd S*ns, but I hear hints of Belle and Sebastian and The Beach Boys here." 17 Seconds
"Their finest yet… Soaring along with its striking melody and glorious harmonies, I just can't get enough of it." Jim Gellatly, The Scottish Sun
"Their latest – and best – this is one catchy, bouncy, melodic pop song." Colin Jackson, Artrocker / Loud Horizon
"They are one of those bands who cannot help but make music which you long to hear on the car radio, the sort of songs which make you go the long way home so you hear them in full." Scots Whay Hae
"Classic pop/rock… could almost be a great ELO song." Tom Robinson's Fresh On The Net
"The song may be one of your musical bright spots of the year." When You Motor Away
"You'll be hard pressed to find a happier honey shoehorned into 200 seconds the rest of the year." The Sunday Experience
"a strange, refreshing and excellent fusion of 60s Beatles, 70s Rolling Stones and 80s Queen…a pure delight." Cult Noise
"The Deadline Shakes sound like a ballsier version of The Boy Least Likely To. Hailing from Glasgow, the band also makes me think of the rootsy folk rock that was super popular here in the US a few years back. Either way, their new single "Sweeten the Deal" is definitely a winner."
Racecar Spacecar