Artists > Stephen McKee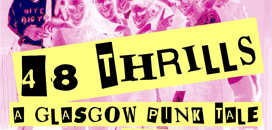 Bio
In 2007 Flowers In The Dustbin published the novel '48 Thrills – A Glasgow Punk Tale' by Stephen McKee. The book was given to the people to review: people who attended Flowers live events, or who discovered the book on the net. There were no copies sent out to any press. The book was launched at Barfly, Glasgow in April 2007 at a gig featuring exemplary Clash tribute 'Counterfeit Clash', Sex Pistols tribute 'The Filth and The Fury' and Scotland's original punk band THE ZIPS. A couple of months after the book came out The Evening Times ran a feature on the novel.
Fast Forward to the present, and the book continues to pick up new readers and new interest. Vive Le Rock and Scots Whay Hae recently reviewed it. Stephen McKee read excerpts from the book at an event in Street Level Gallery celebrating the photography of Harry Papadopoulos. The book is now printed in a second edition, a Kindle version is available on Amazon and a Japanese edition is imminent.
The novel also features an introduction from the front man of Scotland's original punk band The Zips:
"When young kids ask me, what it was like to be part of the punk
music scene, the first time around, glibly, I retort – you had to be
there. Well, now you can. Read 48 Thrills and be transported back
to the mean streets of late-Seventies Glasgow. To a soundtrack of
Sex Pistols, Clash and Banshees, re-live one of the most vibrant
and violent periods of popular history. You had to be there…
but this is the next best thing." Jonzip
Releases
'48 Thrills – A Glasgow Punk Tale'
READ THE FIRST CHAPTER HERE (Kindle edition): http://tinyurl.com/clohyvr
BUY THE BOOK HERE:
Amazon http://tinyurl.com/d3rw8d5
Flowers In The Dustbin store: http://flowersinthedustbin.bandcamp.com/merch/48-thrills-a-glasgow-punk-tale-stephen-mckee
Featured Video

Back in 2012 Stephen was part of a discussion panel at the Harry Papadopoulos photography exhibition at Street Level in Glasgow. You can see a film of the event here. Fast forward to 1.11 for a reading from 48 THRILLS!
Press
"a white knuckle, snakebite-fuelled ride through the mean streets of 70's Glasgow. Definitely recommended."
"McKee's book is an insight into one of the most exciting and radical cultural movements of the last century."