Rennes Les Bains Clan > What You Fighting For…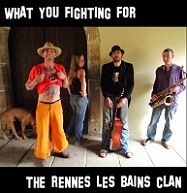 Flowers 19 – Release: 29th October – 2012
1. What You Fighting For (4:04)
2. What You Fighting For – Uncut Original (7:30)






Buy Digital Download:
The story behind 'What You Fighting For'
The RENNES LES BAINS CLAN are a coalition of artists from a community in the mountains of the South of France. They are about as far outside the system as it gets. Living in caravans and caves, they recorded their debut tracks on solar power!
THE LIST have announced Rennes Les Bains Clan – 'What You Fighting For' ss their SINGLE OF THE MONTH, saying it "has grabbed our attention, a sharp and incisive protest song set to a boiled-down, Specials-like kind of North African ska."
Featured Audio
Featured Video
Press
"incredibly powerful and moving…a killer tune… serious yet danceable; somehow they've managed to tick far more boxes than you'd think possible."
Press
"It sounds like if The Streets teamed up with Madness."